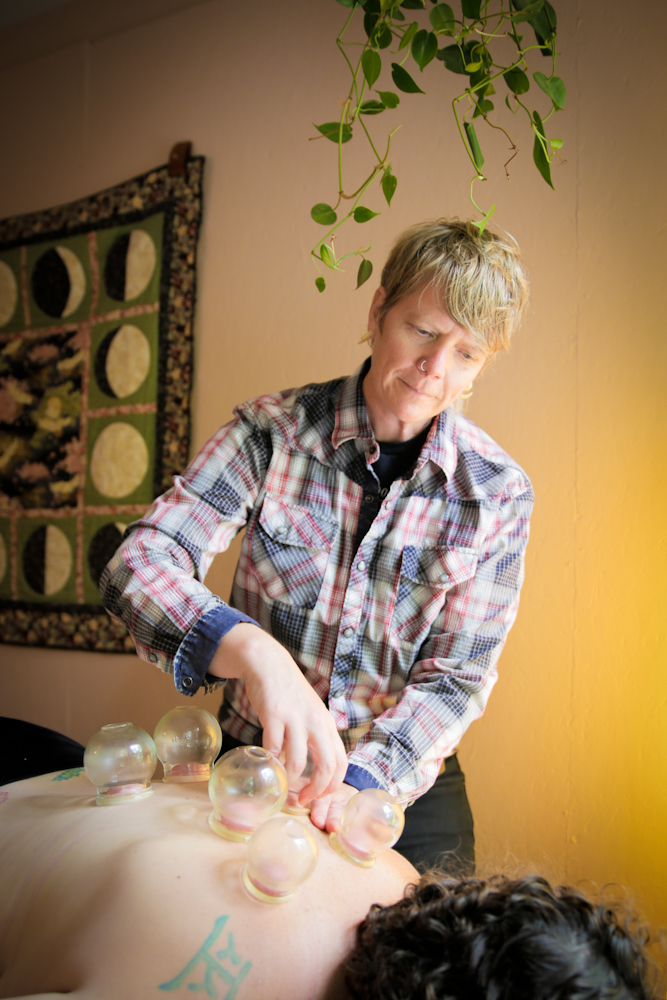 Sunny Jaynes had a comprehensive education in Chinese medicine from Oregon College of Oriental Medicine in Portland, Oregon where she studied Chinese medicine theory, the practice of acupuncture, Chinese herbalism, nutrition, Qi Gong, Shiatsu, Western medicine, and energy medicine. After receiving her Masters of Arts in Oriental Medicine, Sunny became licensed in the State of Oregon to practice Chinese medicine. Sunny has completed further coursework in pediatric acupuncture from Robin Green, Gu Syndrome and Lyme's Disease treatment from Heiner Fruehof, and Qi Gong training from Liu He and Liu Dong at Ling Gui International Healing Qi Gong School. She has also done extensive self-study in cancer support treatment as well as fertility treatment using Chinese medicine.
Before and after attending Chinese medicine school, Sunny has actively pursued training in shamanic healing and energy work. She has completed a 2-year course in shamanic training from Kevin Richardson and a 13-month course in shamanic training from Cerridwen Fallingstar. She continues to train and study with a monthly shamanic healing group consisting of students from Kevin Richardson's classes.
Just as relevant to her continuing education has been her teaching experiences after graduation. As an assistant teacher for courses in shiatsu, acupuncture techniques and advanced acupuncture, Sunny has been able to dive deeper into all of these subjects.
Sunny began her college education in liberal arts with a major in Psychology. Sunny loves being an acupuncturist and she is pursuing ways to enhance her practice and go deeper on a psycho-spiritual level with her patients by getting further training in counseling and spirtual guidance.